GOLFING AROUND | Norton Parkinson's patients get in physical therapy — at the golf course | News
PROSPECT, Ky. (WDRB) — The game of golf isn't easy, and it's even more difficult when the players are fighting chronic fatigue and a limited range of motion.
But that's not stopping players battling Parkinson's disease from teeing up.
That was the situation Wednesday at the Nevel Meade Golf Course in Prospect, where several golfers who had been diagnosed with Parkinson's disease were getting in some swings — and some physical therapy — as part of a Norton Healthcare program to improve range of motion for patients.
"The program started about nine years ago," said Meghan Cash, a physical therapist for Norton Brownsboro Hospital. "We have anywhere from eight to 20 people. Patients were recommending and asking, 'Hey, is there anything I can do to get back on the course?'"
Norton Healthcare quickly spotted an incentive to get patients to do physical therapy.
"Parkinson's makes movements smaller and it decreases rotation," she said. "And so all that stuff, they're things that you need for golf. So it's a natural kind of connection."
Not only do the exercises help improve the patients' ability to move but they also help improve their golf games.
"We warm up and try to get that — all those motions that are difficult for people with Parkinson's — that rotation, that large big-amplitude movement," Cash said. "Half of the group goes to golf with Robert, the pro here. We do about a half-hour of exercise and a half-hour of golf, and then the groups switch."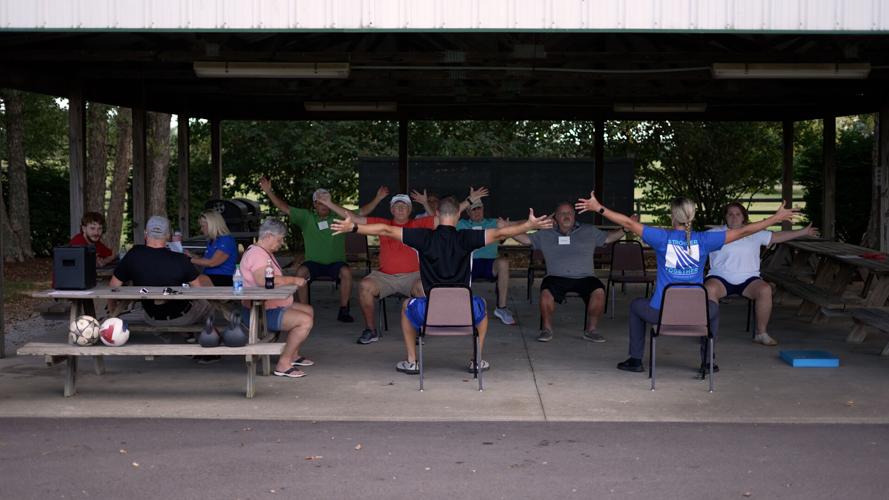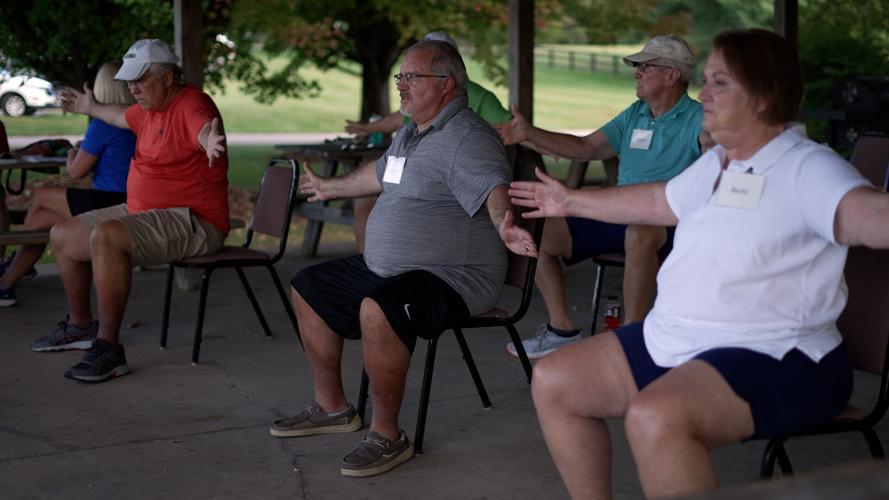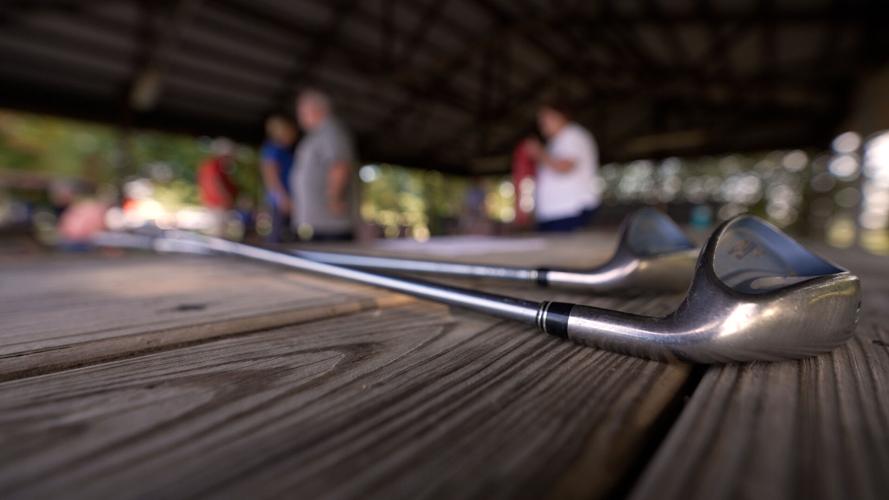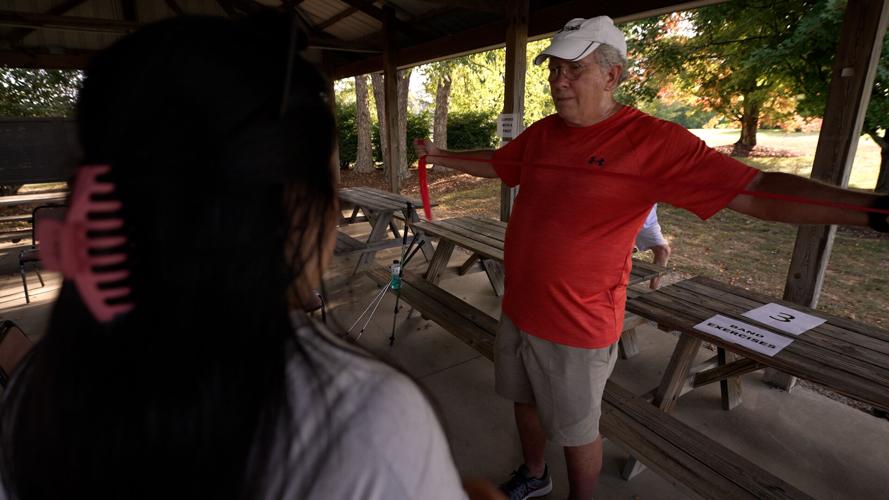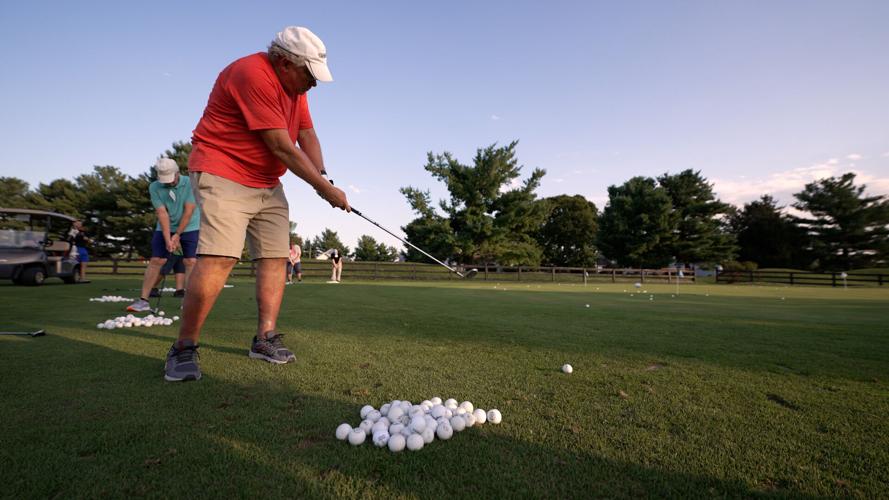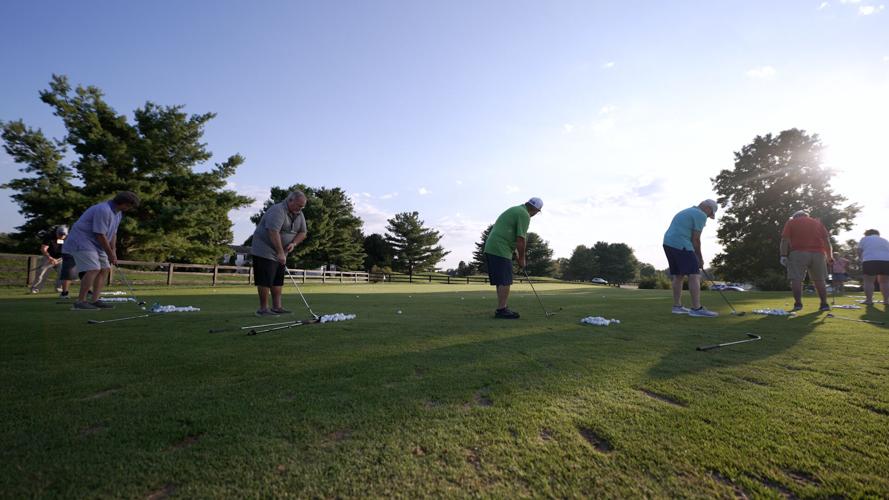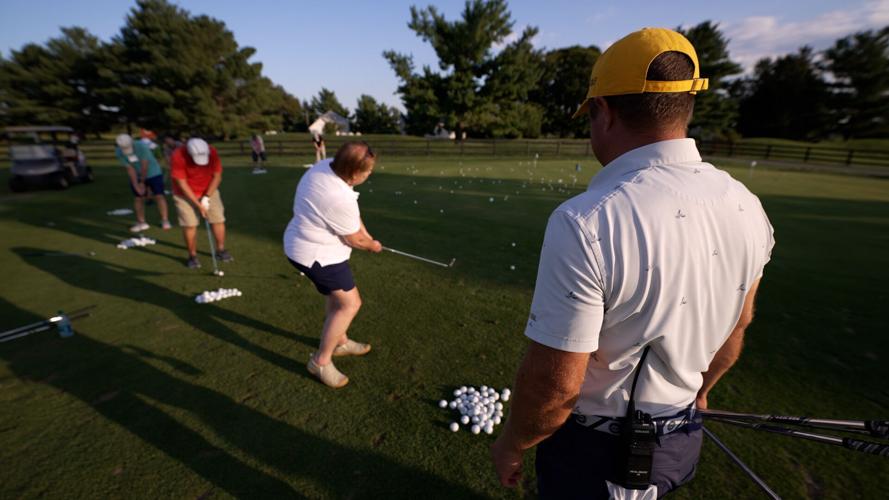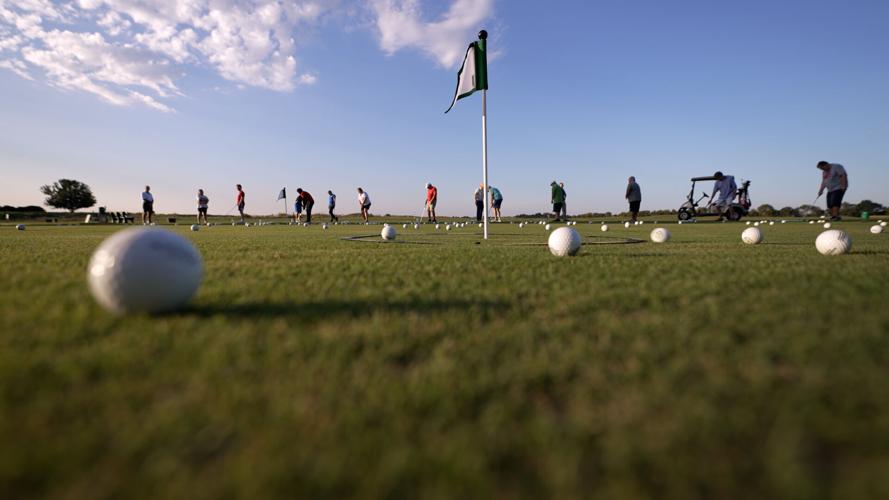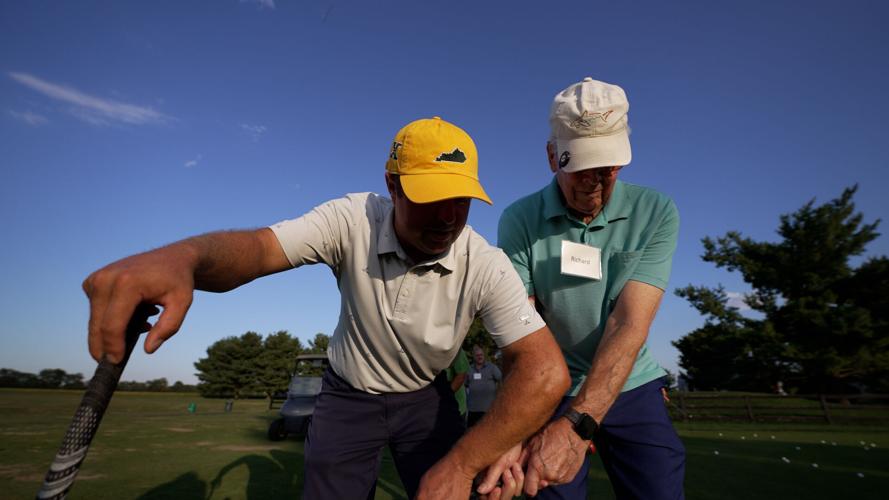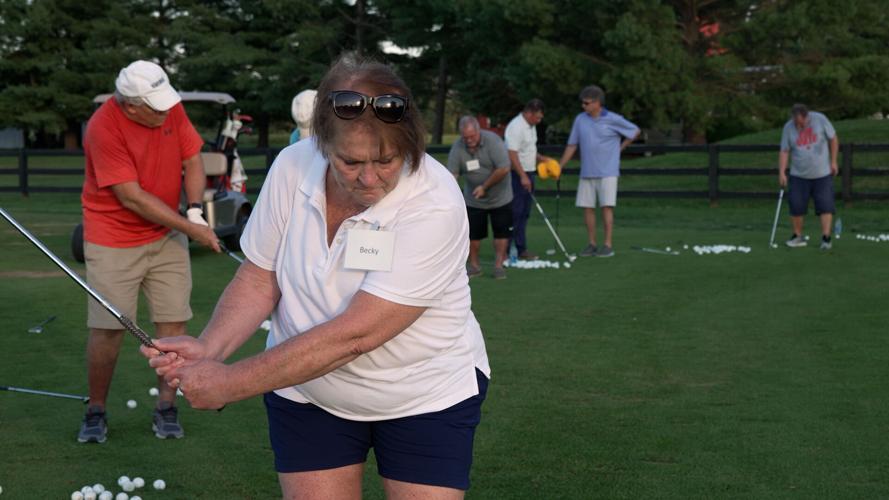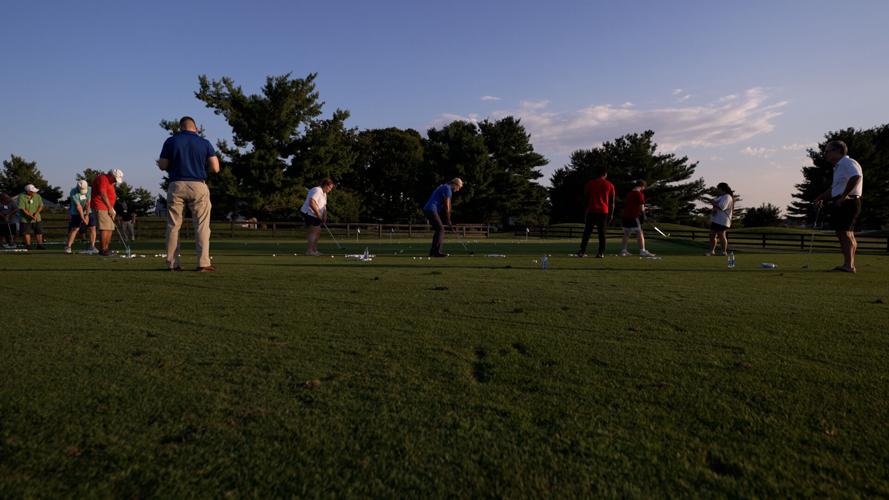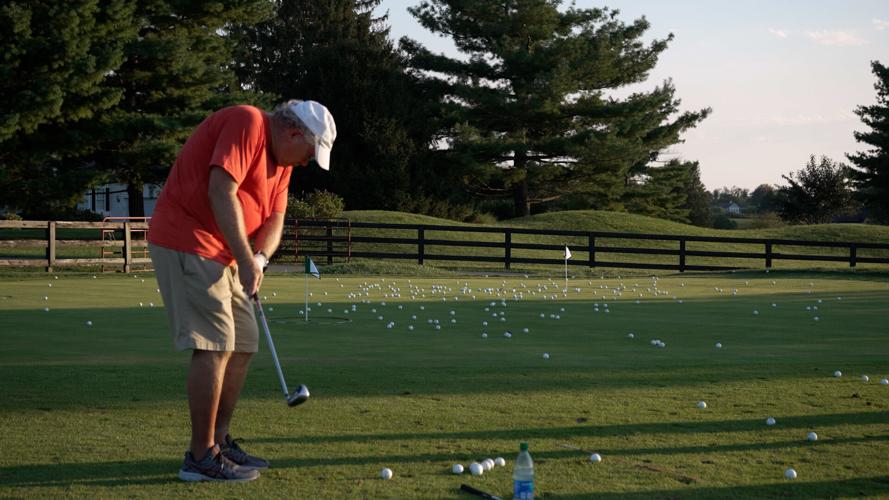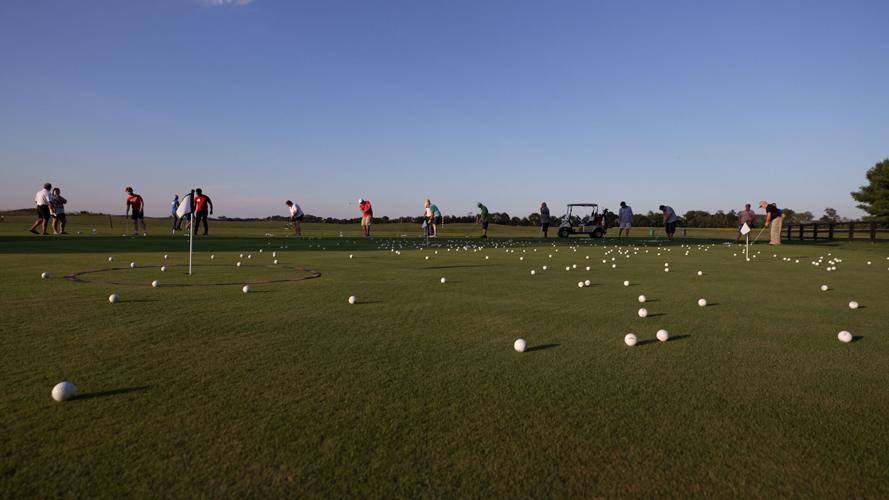 Becky Fangman is one of the patients.
"It took me about a year to come to terms with the diagnosis, and after that, it's like get involved as much as I can," she said. "A lot of people are on their journey as well and they like to do things that I like to do."
"This summer was my nine years since I've had it," said Jeff Collins, another patient with Parkinson's disease. "Fatigue is one of my big issues. It affects everyone differently. Parkinson's will tighten you up into little shuffles and things like that, so everything is a big movement, a big step. With the golf swing, obviously, you want to open up a big, arcing swing."
And both patients know they're not just golfing around.
"The whole thing is centered around the PT," Collins said. "I mean, golf is to get us guys out here. Golf is the fun part."
Cash said the golf course provides real-world incentive to get in the PT.
"It just makes it more realistic," she said. "Obviously, a lot more fun to be out on the golf course and hanging out with people. We've had a lot of guys make friends here and they start golfing together. So it's been great."
Fangman said it works for her.
"That one great swing keeps you coming back for more," she said.
Collins also gives the program a thumbs up.
"Whatever it takes," he said. "It's a fight. Some days are good. Some days are bad. I personally feel very fortunate for what I've got, for where I am."
Copyright 2022 WDRB Media. All Rights Reserved.