YUHS leads future healthcare with heavy particle therapy and other precision medicine < Hospital < 기사본문
The Yonsei University Health System (YUHS) will introduce the heavy particle therapy, called a dream cancer treatment device, around next March and use it for treating cancer patients. YUHS will be the 16th institution worldwide to use the therapy, and Korea will be the only country that runs three particle accelerators – one fixed type and two rotating types. It is expected to be good news for severe, incurable cancer patients, such as pancreatic and lung cancer.
YUHS President and CEO Yoon Dong-sup explained the preparations for opening the "Heavy Particle Therapy Center" in 2023 at a news conference on the second anniversary of his inauguration on Monday.
The Heavy Particle Therapy Center, in which YUHS has invested about 300 billion won ($215 million), is currently in the final stage of installing the treatment device. The final work has also begun, from discussions on establishing treatment standards in hospitals to discussing health insurance applications with the government.
YUHS leads domestic cancer treatment by introducing the world's 16th heavy particle therapy
In heavy particle therapy, synchrotrons accelerate carbon atoms close to the speed of light and precisely irradiate energy beams to cancer cells of patients through fixed or rotational therapy devices. Heavy particle therapy has two to three times more effects than X-ray and proton therapy.
Besides, the heavy particle's characteristics that release the maximum energy at the target point can increase the impact of cancer cells. On the other hand, it gives low radiation to the surface of the body and emits most of its energy to the target cancer tissue, minimizing its impact on normal tissues other than cancer cells. In other words, its therapeutic effect is better than the existing radiation therapy but has fewer side effects and aftereffects.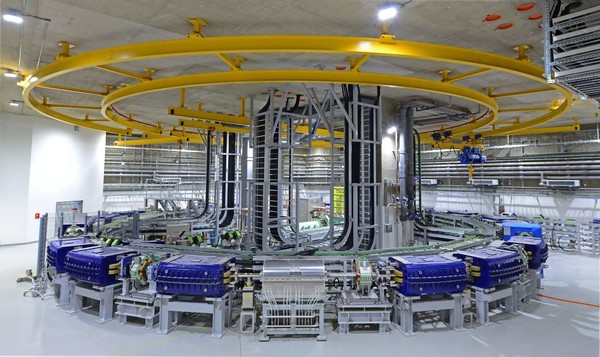 Heavy particle therapy can treat all solid cancer except for hematologic malignancy. It is effective in pancreatic, lung, and liver cancer, difficult to treat previously, and is called a dream therapy.
"Heavy particle therapy will more than double the survival rate of pancreatic, lung, and liver cancer, the three intractable cancers with the survival rate of lower than 30 percent," CEO Yoon said. "We expect to use it broadly to treat other cancers, including prostate cancer, because of its fewer side effects and better patient convenience than existing therapies, not to mention treating rare cancers, such as bone and soft tissue sarcoma, chordoma, and malignant melanoma."
YUHS will operate one fixed-type heavy particle therapy device and two rotational-type devices. The rotational type turns 360 degrees and irradiates heavy particles, allowing for intensive irradiation into patients' cancer cells from any direction. YUHS is the only institution worldwide that runs three heavy particle therapy devices.
The treatment time per patient is only two minutes, but the preparation takes time. Hence, it plans to treat about 50 patients daily using three devices. Patients feel almost no pain after the treatment and can go home immediately.
"We will be a new hope for intractable cancer patients in Korea by starting heavy particle therapy for the first time in Korea in 2023," Yoon said. "YUHS, which has led Korea's healthcare, will strengthen its medical leadership. To this end, it will take the lead in overcoming severe, intractable diseases through precision medicine, such as new drug treatment and heavy particle therapy, in addition to robotic operation."
Implementing precision medicine based on big data, genome information
Along with the heavy particle therapy, YUHS will strengthen precision medicine, which provides personalized medical care based on data science, such as big data and genome information, and cell therapies. It plans to present an advanced treatment paradigm by rapidly introducing new treatments, such as CAR-T cell therapies (CAR-T cells, chimera antigen receptor T cells) and developing drugs, biomarkers, and medical devices.
It will also enhance digital health to deepen precision medicine. YUHS is pushing for digital transformation that connects the Severance Hospital to its sister hospitals in Gangnam, Yongin, and Songdo, which will open soon. To this end, it established the Digital Health Office early this year. The office collects patient data and establishes a platform to help researchers conduct studies safely and efficiently.
YUHS introduced robot surgery in 2005 for the first time in Korea and has recorded more than 30,000 robotic operations, the world's largest. To develop this area further, YUHS is making various efforts, including its agreement with Doosan Robotics to develop homegrown surgical robots, in addition to clinical and educational efforts.
YUHS also set up a biohealth technology holding company last October to commercialize technologies in biohealth fields, such as new drugs and digital treatments. The biohealth technology holding company plays a role in supporting faculty members to commercialize ideas in medical fields.
Designing talents as future medical leaders
YUHS is also trying to improve the environment to enhance medical, educational, and research efficiency. It plans to build a new medical school so that researchers can concentrate on research and students can receive comfortable education. It has sought various ways to build a medical school since last year by establishing a special committee on the medical school site. In April, the Yonsei University Corporate Board approved sites, including Allen Hall. Constructing a medical school will also strengthen the university's competitive edge, which has long experienced infrastructure problems, including aging facilities and a lack of research space.
"We have established a planning committee to build a new medical school, which began full-scale operation. We plan to build a new building with good durability and space utilization," Yoon said.
Regarding the cultivation of physician-scientists, he said, "We will activate a task force within the university. YUHS will take the lead in fostering good doctor-scientists to lead Korea's medical development, not resorting to a temporary system supported by the government."
YUHS is taking the lead in changing organizational culture, too
YUHS continues to innovate to improve the conservative and vertical workplace culture. Through recruitment interviews of various occupations, such as nurses, administrative officials, radiologists, and medical technologists, we will recruit people who quickly adapt to the organization and with practical work skills, change personnel evaluation from relative to the absolute system, and adjust some test subjects.
YUHS will also introduce a four-day workweek for the first time among Korean university hospitals.
"A four-day week is a good system. However, it is difficult to decide willingly," President Yoon said. "Some people want it, and others don't because there is bound to be a change in the salary part. It's also because we need to recruit more people, and the system needs to change."
He added, "We are researching and preparing so that our employees will be paid as much as they have worked at a reasonable level. We will conduct pilot projects in three wards in Sinchon and two wards in Gangnam."